Belinda Sillars
Award Winning Equestrian Bronze Sculptor
BELINDA SILLARS is a remarkably talented and gifted artist who is regarded as one of the leading equestrian and wildlife bronze sculptors worldwide. Accepted as an artist of considerable skill in her ability to capture the movement and character of her subjects – to such a level they are almost come to life. A member of 'The Society of Equestrian Artists' – the UK's most prestigious equestrian art establishments whose members represent some of the world's leading artists and sculptors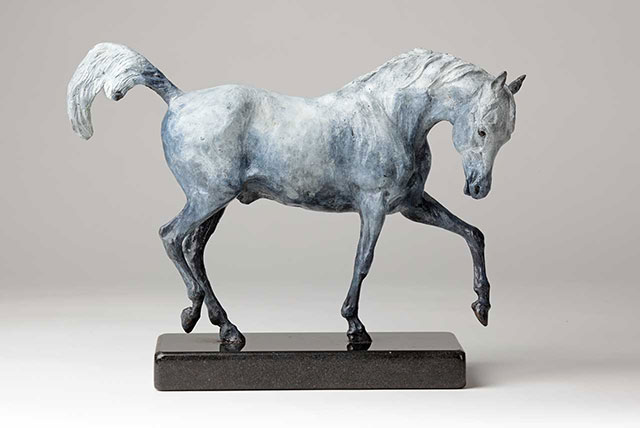 The Master Sculptor
Born amid the beautiful countryside of Suffolk England, Belinda was surrounded by animals from birth and began riding as soon as she could sit up. Her flair for creativity soon became apparent when, as a child, she frequently drew and painted pictures of horses and dogs from the age of three.
Equestrian bronze sculptures are where you find Belinda Sillars the master artist – a renowned equestrian sculptor of extraordinary talent. Also as an avid horsewoman, point-to-point rider, and a lover of horses… Belinda has has developed a particular reputation for her statues of bronze horses.
Apart for the sought after limited edition bronze horse sculptures Belinda Sillars has undertaken a large number of important commissions for leading figures throughout the equestrian world, including the World Series Racing Championships, the Breeders' Cup, Hickstead Dressage, and the Chatsworth and Branham International Horse Trials – the most prestigious equestrian events in the world.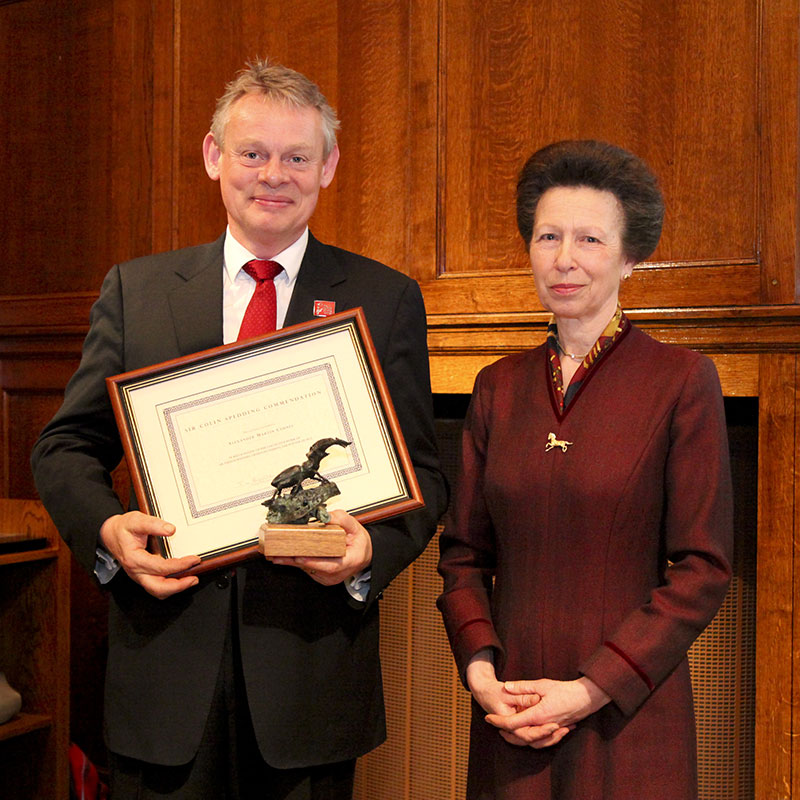 Her Royal Highness Princess Royal presents recent 'Sillars commission' to Martin Clunes at the National Equine Forum (NEF)
BRONZE SCULPTURES
Featured Bronze Work
THE ART AND THE PROCESS
Casting a Bronze
 The casting process known as 'Lost Wax' or 'Investment Casting' dates back to 3000 years B.C. where beeswax covered with liquid clay was used.
Belinda uses a mixed material to sculpt the original sculpture… from this image she takes a silicon rubber mould and from this a hollow casting wax. This wax is dipped into a ceramic shell. The shell is then heated to melt the wax out of it and the shell is then cooked to a very high temperature. The molten bronze is poured into the hot shell.
After the bronze has cooled the ceramic shell is shattered and broken away from the bronze. The colouration of the bronze is the final stage of this very time consuming process. The colourisation is achieved by heating the bronze and applying different chemicals to produce the required colours on the bronze. In effect this is what a patina is and once finished this is sealed with a bee wax; completed whilst the bronze is still warm.
Belinda is an expert in both the coloured patina you see in her work and also the traditional bronze patina.
"I bought my first three pieces of Belinda Sillars' stunning creations five years ago… I fell in love with the power and the energy she illustrates through her pieces – I have since bought several more pieces. Her talent is extraordinary, and her ability to capture all the emotions is phenomenal. Each piece is absolutely stunning and I am so grateful to have such beautiful works of art."
Midge Ellison
Arkansas, USA